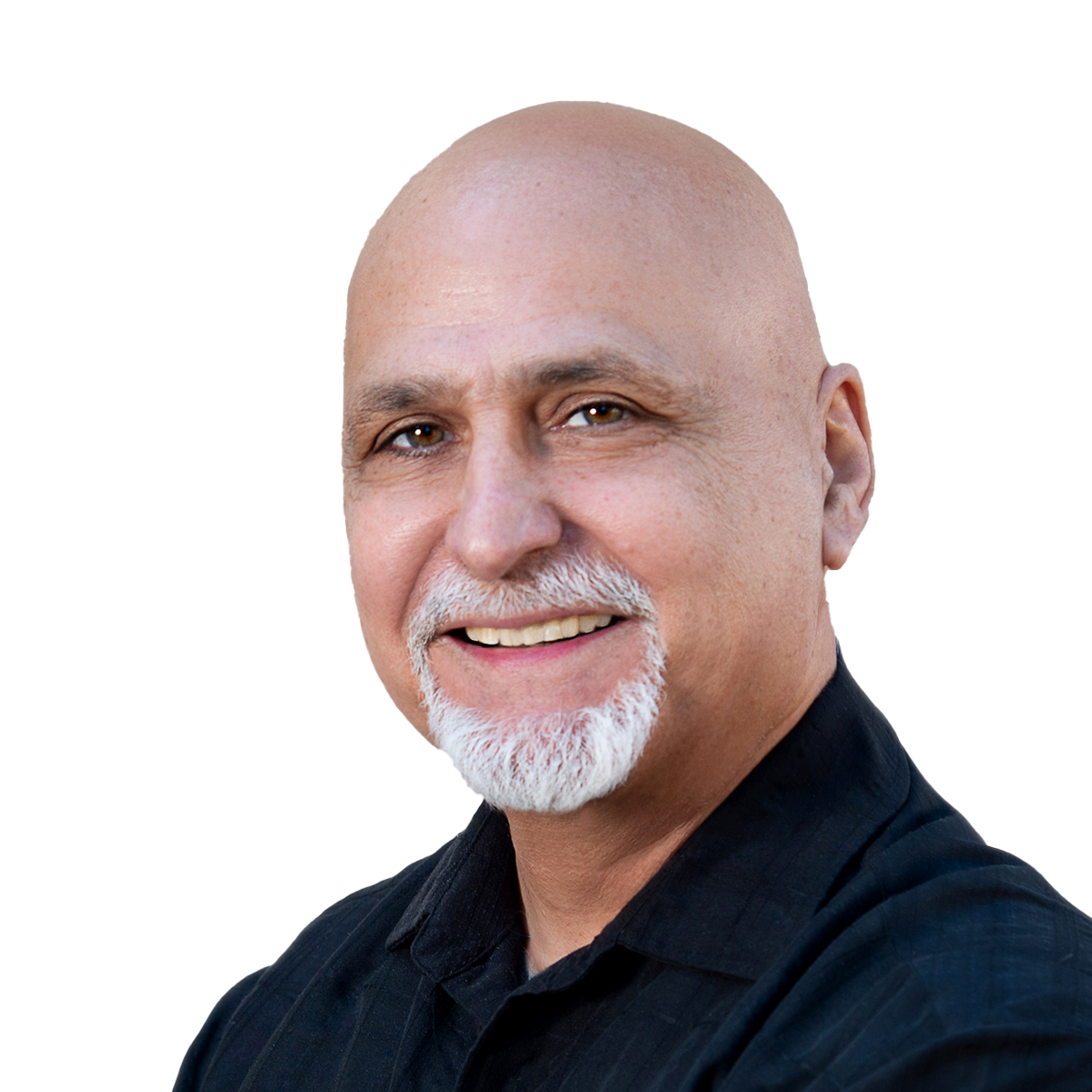 "Agliolo is a writer to watch."
"Agliolo's third book, The Empath
 should be made into a movie! It has all the elements of a blockbuster!

"
"Agliolo's "The Empath" isn't an empty show of virtuosity but is rooted in his belief in the power and obligation of old-fashioned storytelling."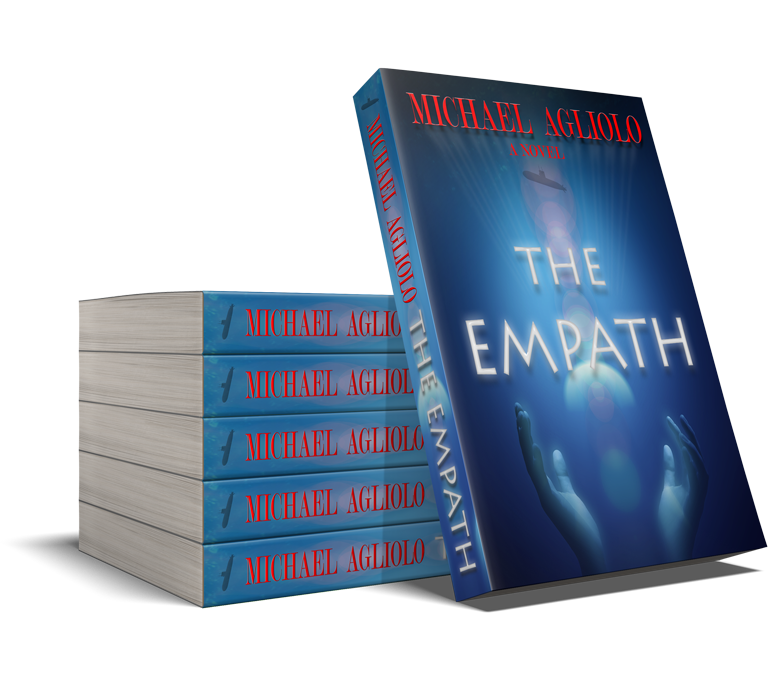 Y ou'll never view the world the same, after feeling it through the eyes of The Empath. Michael's latest offering grabs your emotions and compels you on a journey you won't soon forget…
The President of the United States is dying. Save him and the world will discover you can cure the sick. Would you do it knowing you would be hounded, dissected, and turned into some government science project if the word got out? Step into Jason Marino's life and witness the reality of being an Empath.
From the jungles of North Korea to the depths of the Atlantic Ocean inside the secret nuclear submarine USS Hydra Delta. Experience every moment of the mission to prevent the worst disaster in American history.
Michael Agliolo's gripping 3rd novel takes you from the inner sanctum of the Oval Office to the most dangerous volcanic island in the world—through the eyes of THE EMPATH.
5.0 out of 5 stars. Most enjoyable novel I have read this year: Superb.
This excellently written story sustained my interest to to the end. Each character is credible and engaging. Not being able to purchase the sequel(s) immediately has been a significant letdown. I really yearn for this story and its superb cast of supporting characters to continue and evolve.
I want to know how the press has dealt with the President's unexpected surge in health. Do any of the submarine's crew seek follow-up with the empath? Would a subsequent national emergency bring back the crew with Jason and Sarah again? Will their gifts expand to meet new challenges?
5.0 out of 5 stars
The suspense and force of this book kept me up at night. It's a bit of science fiction stirred into a powerful, dramatic plot. The characterization of Jason and Sarah throughout their harrowing and mysterious experiences makes it real.

Many fictional stories from the past were premieres of the future, such as Dick Tracy's watch! This might just be a preview of the future.

Highly recommended suspenseful read.
5.0 out of 5 stars
WOW! Excellent book! Reminded me of the suspense and sitting on the edge of your seat from watching the TV show "24". This book would make a great TV show.
I couldn't understand a lot of the technical jargon but it didn't takeaway from the story at all—not to me. This is totally not my usual kind of story but Agliolo has changed my mind. Highly recommend it!
5.0 out of 5 stars
Fantastic Suspense and story! I loved this book and usually I do not like science fiction. The story, plot, characters, dialog are fantastic. A publisher should snap up this author, put them under contract, get them an editor and start cranking out more great books. The depth of this writer's imagination is huge. Honestly, I could not put this book down after the first 50 pages.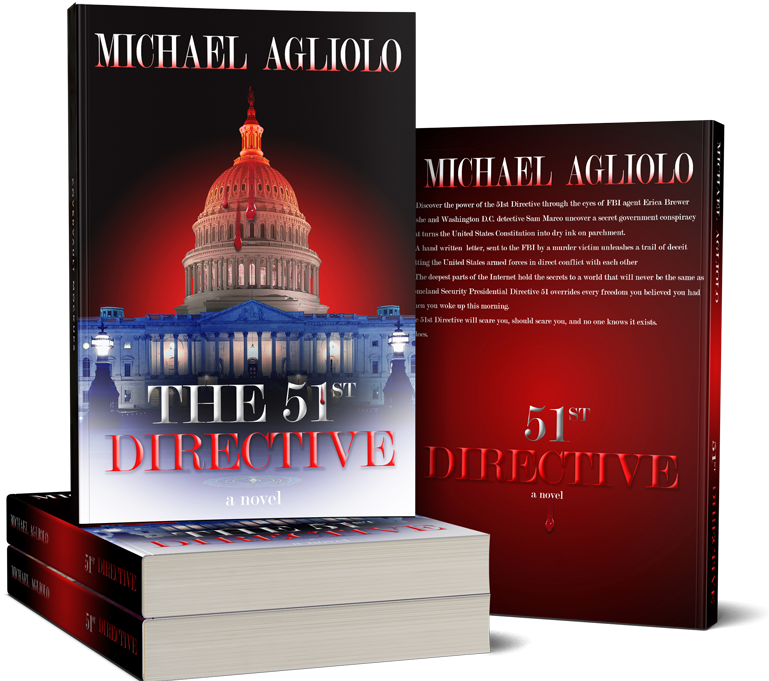 When FBI agent Erica Brewer finds a letter sent to her boss that begins with "I am dead," and warns of a conspiracy to overtake the U.S. Government from within, she suspects a hoax.
Three hours later, the apartment building of the man who claimed to be 'dead' is on fire. Written in first person, we witness the unfolding of a conspiracy that threatens the lives of every member of Congress and pits the armed forces of the United States against each other in a military standoff for control of the nation.
"Highly Entertaining and Unpredictable."
What Readers Are Saying About the 51st Directive …
FBI agent Erica Brewer is a wise-cracking, drop dead gorgeous 31-year-old blue-eyed brunette divorcee who uncovers a plot to take over the U.S. Government–from within. The tale that unfolds is a deftly crafted political techno-thriller that will have readers turning pages late into the night.
"The 51st Directive" ($9.99 in paperback, self-published; also for Amazon Kindle), by Chico writer (and photographer) Michael Agliolo, takes its title from an actual document. As Agliolo notes, it's a "Presidential Directive which claims power to execute procedures for the continuity of the federal government in the event of a 'catastrophic emergency.'"
This is an outstanding story of treason and constitutional law in the United States. It has murder, solders, intrigue, suspense, mystery, romance, friendship and politics. In short, a very intense but enjoyable read.
I bought the book after virtually meeting the author on Twitter. My mom read it before I got to it; starting it yesterday and finishing today. She loved it. She said it was great from the start and loved the characters and the plot. It was well written. She says it taught her many things that she didn't know, or if she did know them, she had forgotten them. Those are her words, not mine. lol As you know, Mom knows best, so go get yourself a copy.
This book is a real page turner! A very interesting scenario showing how well our Constitution was written. A very interesting story on how our government can operate.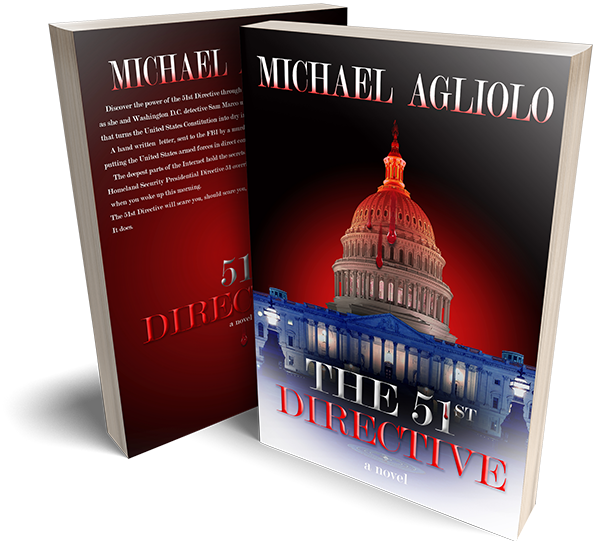 "The 51st Directive takes a harrowing central theme, and delivers a power-packed conspiracy thriller."
"Michael's First Novel is stunning!"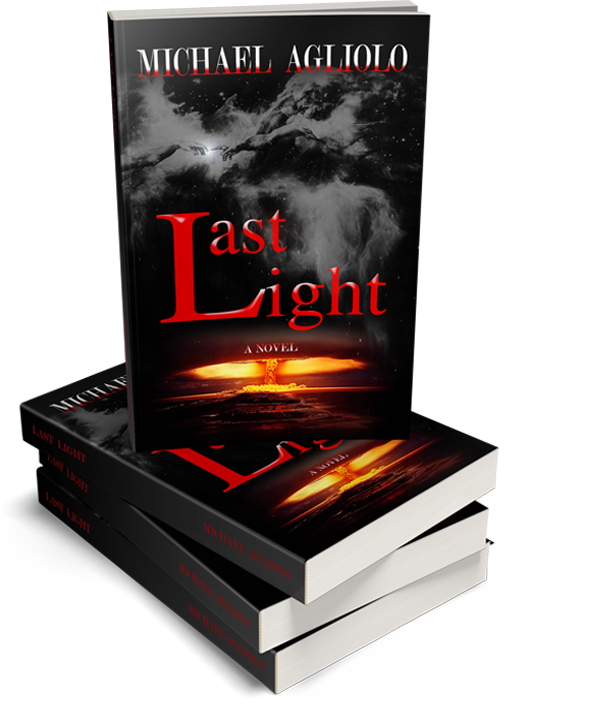 M​ichael Agliolo's stunning first novel takes you on a journey through human history on a collision course with nuclear Armageddon. Nine words, written in an ancient language, are found embedded deep in the pixels of a photograph taken by Photographer Matt Reese.
Struck by a flash of light Matt and model Elaine Gardner experience a simultaneous near-death experience that leads them to the epicenter of a world on the brink of nuclear war. As the past echoes to today, the power of a single photograph is all that separates humanity from World War III.
"This Author's First Flight is a Winner."
What Readers Are Saying About The Last Light…
This author's first flight is a winner…! It holds the reader from the first page to the last in a spellbinding tale. Interwoven with history and spiritual themes, this book will keep you turning pages all night until you reach the surprising and satisfying end…
Originality and authenticity have always been the bedrock of great fiction and in Last Light Michael Agliolo comfortably delivers on both counts. Blending apocalyptic conspiracy and biblical dogma, it's a literary undertaking that might daunt the most seasoned of authors. But it's one which Agliolo manages with enviable panache with his descriptive ability painting scenes that are compelling and immersive.
As a first book by Michael Agliolo, it has a highly polished and well constructed story. Overlapping his extensive knowledge and experience as a long time professional photographer, is a story that includes romance without being gushy, and a more interesting take from writings on the New Testament, just a bit more than hinting at a biblical transformation to world peace. I look forward to more stories by this author and recommend this book to anyone who enjoys a good novel with a twist that would not have been obvious until the final chapter.
Michael Agliolo's first book Last Light is a well written and engaging apocalyptic drama that takes us around the globe. In addition to covering the history lovers, this novel also has a hint of romance for those who love a good romantic tale. This was Angliolo's first book and I am quite impressed, as he engaged the reader, kept a great pace, and wrote in a style that many would enjoy. I look forward to reading more of his work.